This processing saw is a free standing poultry processing saw. The frame and other components are made from food grade stainless steel and composite components. All of which are food safe, rugged, and able to withstand the harsh wash down chemicals used to clean food processing equipment. All components of this saw are manufactured from T-304 Stainless steel and delrin.
Let us show you what we can do for you.
The modular design of this saw enables it to be a freestanding unit, or can be custom mounted to adapt to the customer's specific needs.
This saw enables an operator to perform production tasks while working in a safe, protected position.
The saw is ergonomically designed to reduce operator fatigue and injuries associated with repetitive motion production work. The saw accomplishes this task with the assistance of a pneumatically driven carriage instead of the standard push/pull motion associated with a typical saw.
This simplistic design enables the use of almost any team member instead of a singularly trained saw operator.
Due to the availability of many different drive components it is up to the customer to furnish specifics in regards to final assembly of the saw.
This is one of our many conveyors we have built through the years. Variable speed drives running at four different speeds allowing for a lane change effect that increased production 100%.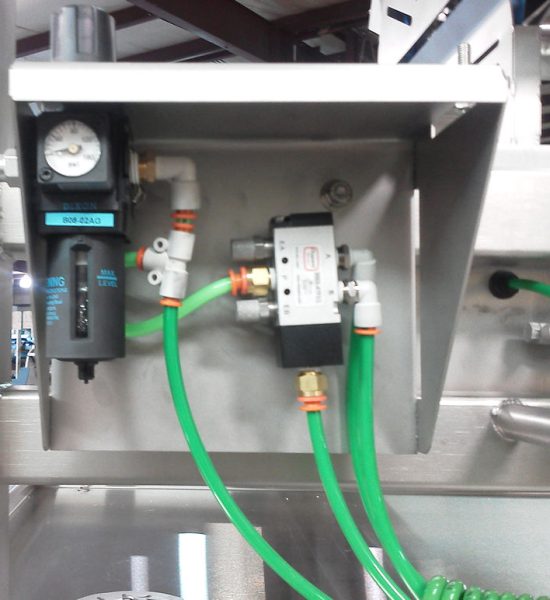 Designed with employee safety in mind.